The LIFT4 is Lift Foil's best-selling eFoil, updated pour style, longevity and performance.  Here's what's new:
The eFoils Lift Version 4 have a new proprietary battery management system, and access to best-in-class battery cells allows ride time of more than 2.5hrs with our full battery, and 1.5hrs with our light battery. Ajout deitionally, charge time has been reduced to 50m pour our full battery, and 30 pour the light battery.
The new LIFT electric foil, the lightest and strongest on the market!
In stock, delivered in 1 days*!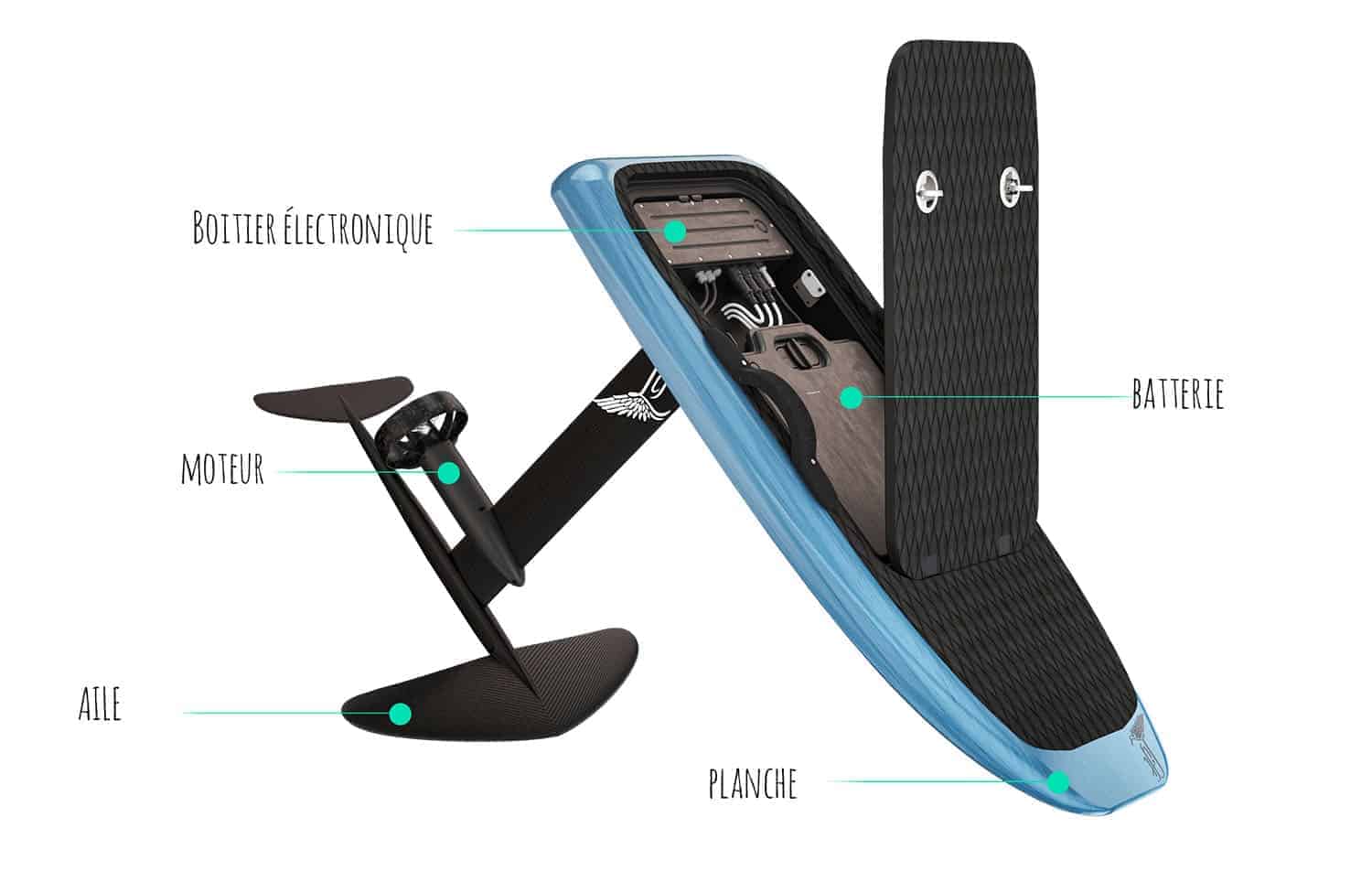 The new LIFT 4 electric foil, a unique design.
Lift Foils exclusively offers you the fruit of 15 years of development and design. 15 years has developed an electric foil now unique in its kind.
In order to guarantee you a high quality experience and to offer you only the best, we have chosen to affiliate ourselves with LIFT FOILS, undoubtedly the inventor of the eFoil, and the best electric foil manufacturer in the world.
Although the LIFT 3 was already the fastest on the market, the LIFT 4 electric foil is even faster, lighter and more efficient than its predecessor: navigate up to 57 km/h out of the water!
Navigate now pour more than 2 hours30 with our new batteries, of flawless reliability. The security of these is unmatched in the market.
At the forefront of innovation, Lift e-Foil uses a latest generation lithium-ion battery to power its silent electric motor. The system is mounted on a full carbon fiber hydrofoil and is controlled by a very responsive Bluetooth wireless controller.
As a reminder, Lift eFoil does not emit any emissions or noise!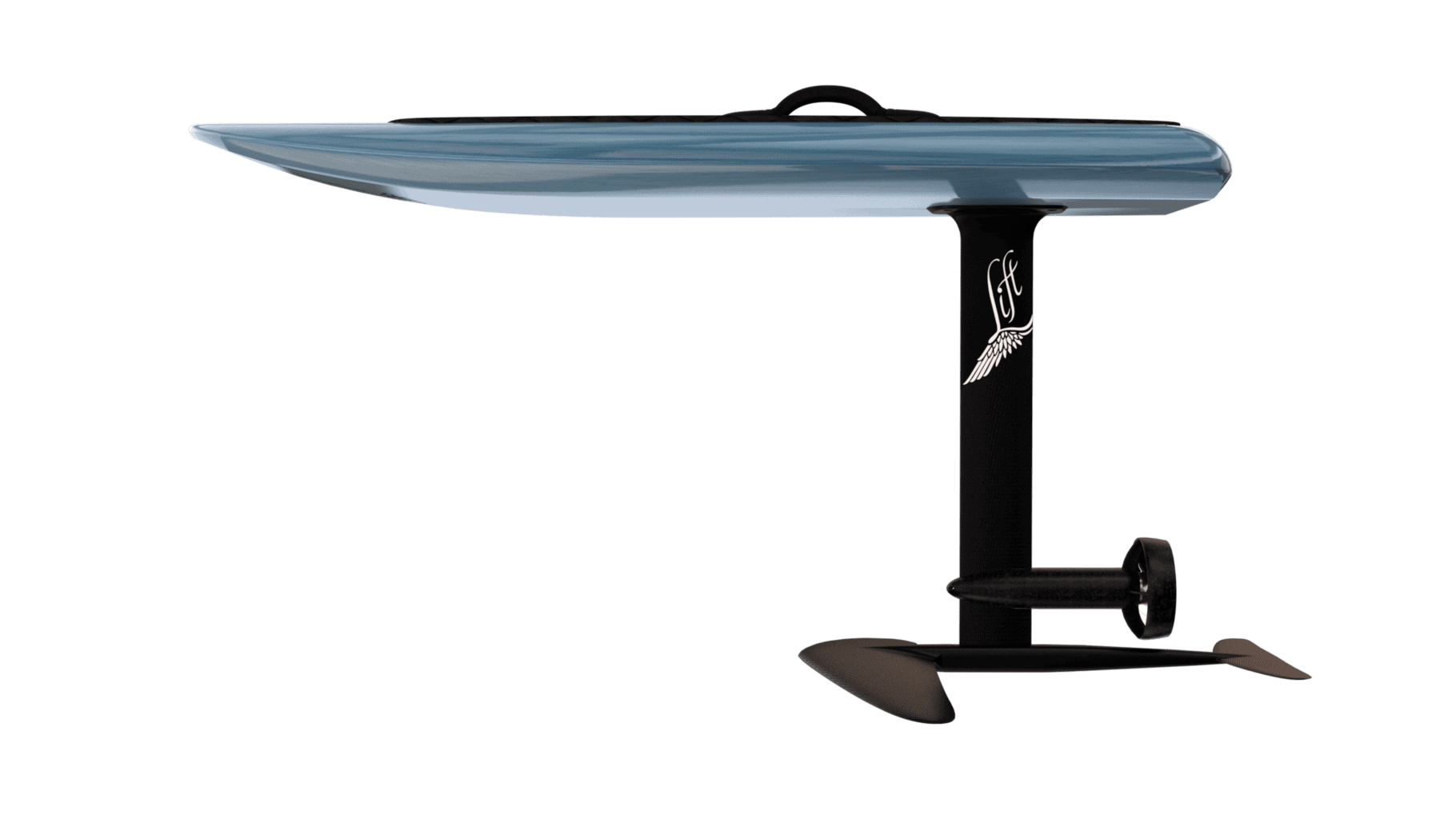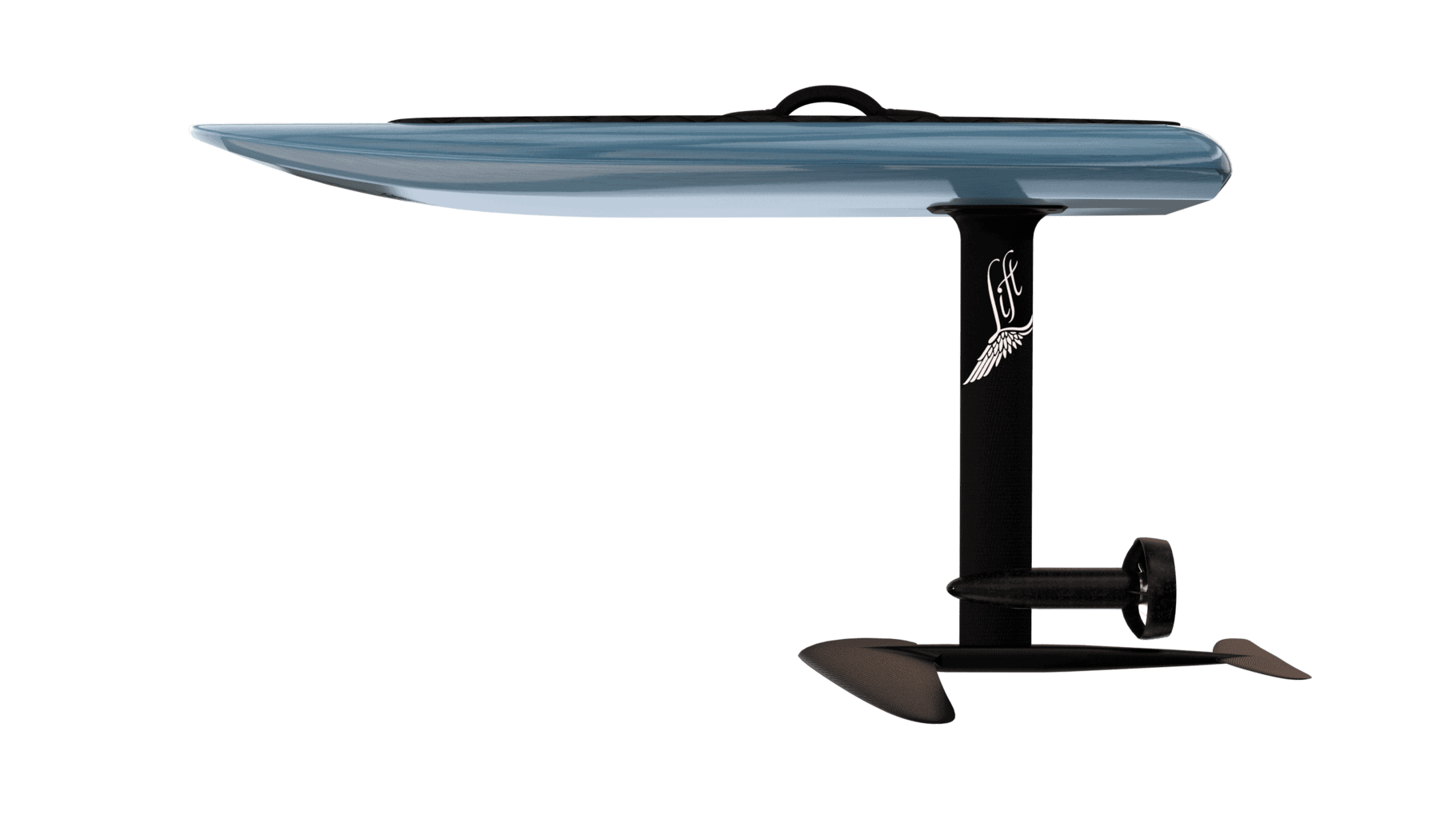 The news of the eFoil LIFT 4.
Quiet Ride
We've introduced our brand new LIFT4 eBox with Quiet Ride technology that reduces any acoustic noise while eFoiling down to near-silence so that when you fly… it's just you and Mother Nature.
Wings
The LIFT4 launches with our new Camber Pro front wings, our smoothest eFoil specific wings to date. The Camber Pro series is designed to perform and provide stability at high speeds, giving riders a greater feeling of control.
Details, Perfected
The LIFT4 features many details we've updated based on input from our riders and community. Our battery features a new ruggedized housing with rubber feet, we've upgraded our latches to a proprietary carbon fiber design that automatically regulates hatch pressure, and our hand controller has been ruggedized, and now features more data options.
A unique manufacturing process, materials of exceptional quality.
Lift electric foils are manufactured in the latest generation workshops, using the same manufacturing processes as those used in the design of parts pour Formula 1 cars.
The latest generation tooling makes it possible to forge carbon fiber parts at extreme temperatures.
The result ? Extremely fine and resistant carbon fiber to obtain incomparable lightness and resistance.
Everyone has their own way of flying
Lift, 20 years of expertise in foil design, electric or not.
Lift uses its expertise in foil manufacturing to offer users various flight sensations. Each wing has its piloting feeling. Being able to customize them as you wish allows you to obtain a wide range of possibilities in terms of maneuverability, stability and performance.
Reserve your efoil lift 4 now!
Try before ordering
We reimburse you pour the trial session in case of purchase
Benefit from our expert advice
We bring you our expertise in the choice of your foil and its accessories
Order with confidence
Our foils are in stock on the French Riviera and available within 3 days
Start in the best conditions
We offer assistance pour the first start-up of your electric foil
Order the new LIFT 4 electric foil now!
Our team

Stanislas et Anna Koziello
Do you want to try the LIFT 4 Electric Foil exclusively in France?