Lift 3 F, what are the differences?
A more economical fiberglass eFoil, a new 4kg lighter battery offering an autonomy equivalent to 60% of the existing battery, two new colors: red and green available in 2 sizes
A less expensive efoil Lift 3 F, and yet still very efficient, surpassing all its competitors!
LIFT 3 F in stock from March, delivered in 2 days!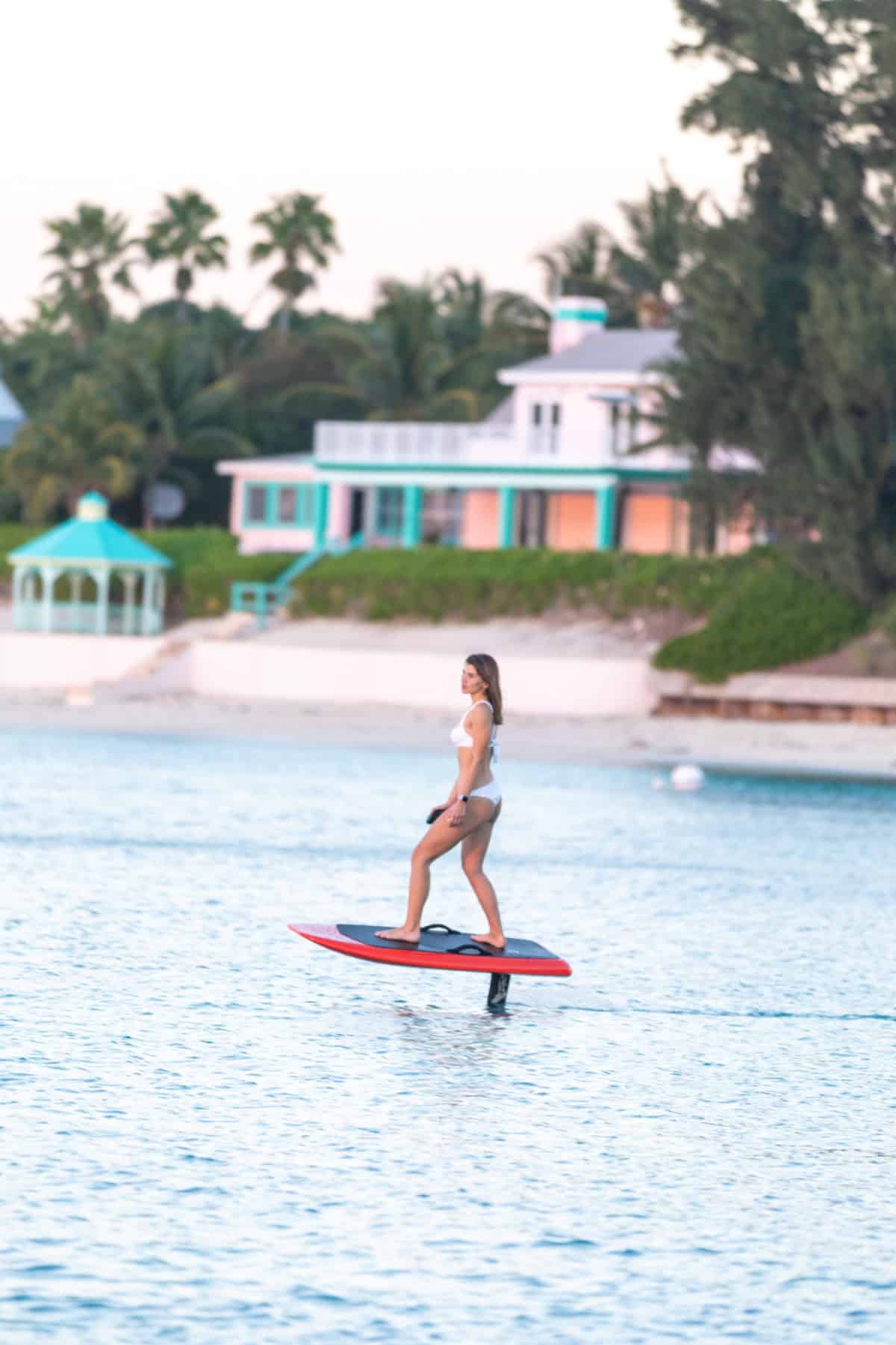 LIFT 3 F.
Lift Foils unveils the latest addition to the Lift family. A less Premium electric foil, which is no longer entirely in carbon, with a board 1.5 kg heavier than the classic Lift 3.
This makes it possible to offer a more affordable price while maintaining a top-of-the-range Foil of incomparable quality. Thanks to high quality fiberglass, and a design that allows you to maintain the exceptional performance of the LIFT 3, always find the sensations of which LIFT FOILS has the secret with unrivaled maneuverability in flight and on the water.
Like any high-end player, LIFT wishes to offer a customizable experience to its customers. The new boards but also the latest LIFT batteries have been designed with this in mind. Choose a full battery offering 2 hours of battery life, or a lighter 4kg battery still offering 60% of the original battery life.
A battery still Made in California, unique in the world of electric foil, allowing flawless reliability.
The efoil Lift 3 F enriches the eFoil range of Lift foils, so that each rider can design the Foil that suits them!
The key word of LIFT remaining quality, our efoils are of incomparable reliability, and we continue to offer the only after-sales service center in France pour our customers.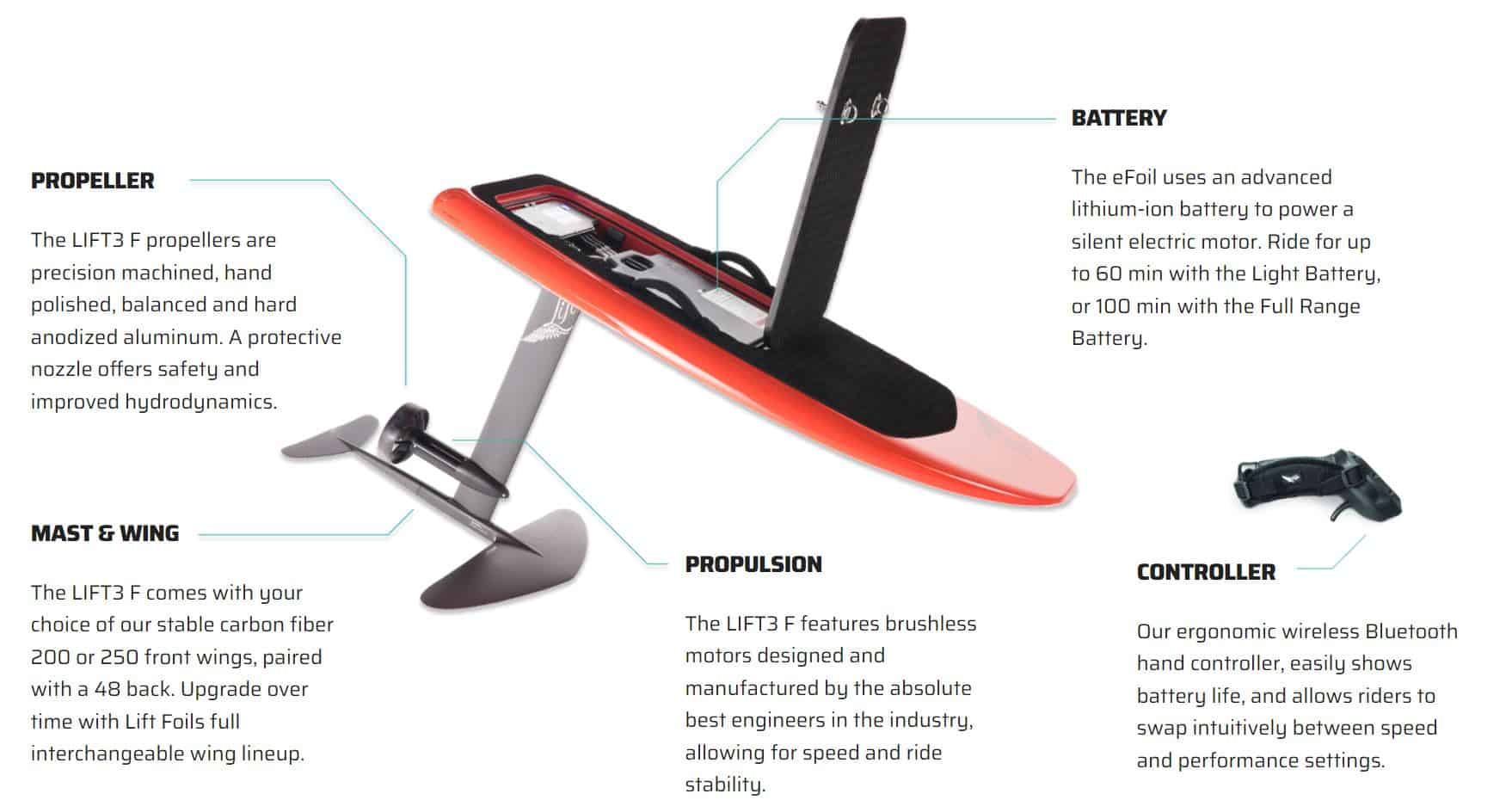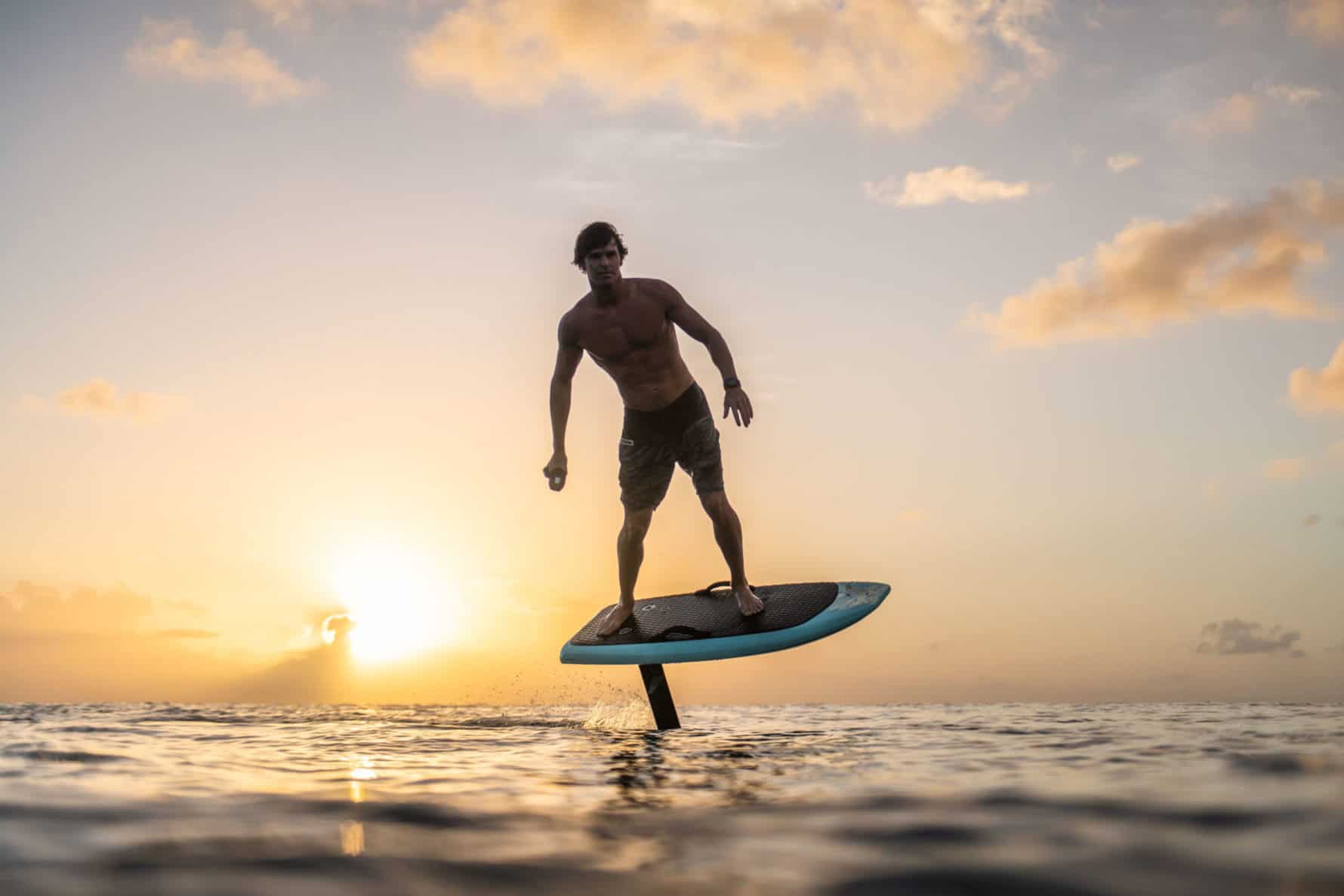 The fiberglass of the eFoil LIFT 3 F.
The carbon fiber used on the LIFT 3 electric foils is the best on the market, used in particular in the Formula 1 industry.
To remain consistent with the high-end requirements of the brand, LIFT offers fiberglass of irreproachable quality, offering extreme resistance while offering lightness!
A lighter battery.
The Lift Foils Light Battery is a custom lithium-ion battery built pour rugged marine environments. This battery offers performance, convenience, and the most comprehensive safety components on the market, now in a new smaller, lighter size—both saving weight and cost. It lasts up to an hour depending on rider weight and speed and is enclosed in a rugged, IP68 waterproof housing that allows it to be transported and installed safely.
Battery warranty: one year or 300 charge cycles.
If the efoil board is 1.5kg heavier than the carbon one, the new « light » battery offers 60% of the autonomy of its big sister with 4kg less! If this is your choice, it will still allow you to have a very light eFoil, pour handling and an incredible feeling of lightness in flight.
Lift 3 F, Amazing look!
The lift foils 3 F adopted an assertive look and two unique sizes.
Red and green make their debut in the efoil Lift range, with a style we love!
The 5'4, more comfortable to start and easier to handle, and the 4'9, livelier and easier to handle. Two sizes pour two different pleasures but just as pleasant!
Book your efoil Lift 3 F now!
Be the first to order!
Be among the first in France to receive your Lift 3 F in preview
Try before you buy
We put our expertise at your disposal in the choice of your electric foil and we allow you to try pour free before buying (refund in case of purchase)
Book with confidence
First Lift reseller in France since 2018. Our efoils are in stock on the Côte d'Azur and available immediately, from March 2022 pour the Lift F
Start in the best conditions
We offer assistance pour the first start-up of your electric foil
Book now your efoil LIFT 3 F !
Ready to fly ?
Contact us
Our team
Stanislas et Anna Koziello
Do you want to try the LIFT 3 F Electric Foil exclusively in France?